Dulcimer meets Bouzouki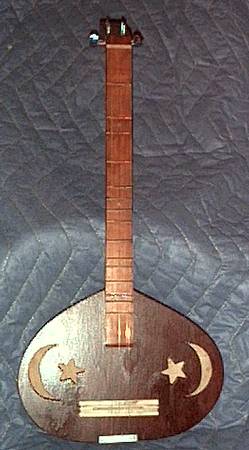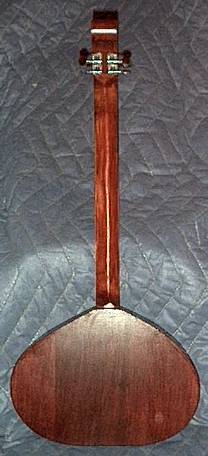 This was the first instrument I built. It a cross between a
Dulcimer and Bouzouki. The sides and neck are made from
maple. The top and back are from oak plywood. The scale
is 22.600. I put the lute style head on it because I liked the
looks. The moon and stars sound hole were my son's idea.
The finish is 3 coats of Minwax Polystain.
I built this for fun and to see if I could do it. I managed
to make it for the cost of the strings, finish and some sand
paper. All of the wood and the fret wires and tuning machines
were here and there in the shop. The string anchor is made
from a 3/8 block of aluminum drilled and counter sunk. It's
help in place with 2 inch coated wood screws. The nut and
bridge are made from oak. The lower part of the bridge is
made from maple.
The sound is simular to a dulcimer with the high end more
powerful. It's a lot of fun to play and it made me want to
build more instruments.